Secret But Most Powerful Religious Beliefs In Kenya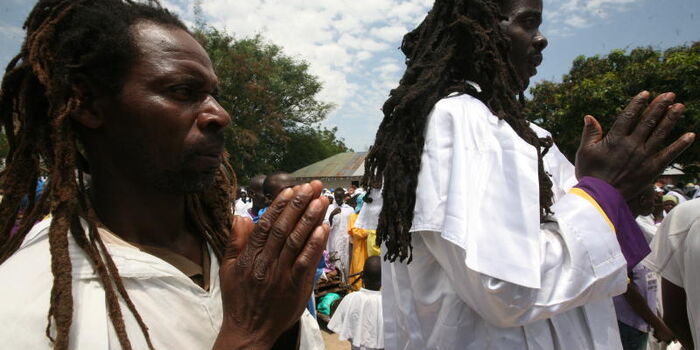 Kenya, as most people believe, is steeped in different religious beliefs that shape its way of life. Kenyans subscribe to the various religious practices to which they devote themselves.
Their freedom of worship is guaranteed by the constitution which stipulates that there will be no state religion and prohibits religious discrimination.
The constitution provides for freedom of religion and belief individually or in community, including the freedom to manifest any religion by worship, practice, teaching, or observance.
About 70% of Kenyans are Christians, 38% Protestants and 28% Catholics. About 25% are followers of indigenous religions and 6% are Muslims. Among the Asian community, there are Hindus, Sikhs, Parsis and Baha'is.
Nairobi church believed to have been built by Freemasons
Twitter
Although their beliefs and practices vary in detail among ethnic groups in Kenya, they share many general characteristics. Almost all involve belief in an eternal, all-powerful creator seen as distant.
However, freedom and the existence of different religions continued to elicit a myriad of reactions. Some of the things done in the name of worship have crossed the line of normality.
The madness in the name of religion doesn't just start with Pastor James Ng'ang'a's recent passages that got a lot of reactions, they've been going on for quite a while.
The town's pastor is recorded many times to lead his services by calling out names, slapping his congregants and even performing miracles. Despite all his antics, he continued to command a huge following.
Freemason
The most talked about religion is Freemasonry. In Kenya, it still remains a secret and perhaps the most feared among some individuals but its impact is very powerful.
As Duncan Ndegwa, then head of the civil service, writes in his book, Walking in Kenyatta's Struggles, they at one point attempted to recruit founding chairman Mzee Kenyatta.
Apart from this, the secret society has taken credit for different architectural designs, especially in Nairobi.
Houses of Parliament, All Saint's Cathedral, McMillan Library, Kenya Railways Head Office and City Hall, all of which are notable for their immaculate and seamless stonework.
They are all considered Masonic, complete with signs and symbols.
Their presence and powerful existence therefore cannot be desired.
Gods Luhya
The most famous among the Mulembe Nation is Jehovah Wanyonyi. He led a mysterious life and his "whereabouts" remain top secret among his followers, five years after his "disappearance".
Nevertheless, followers of the Lost Israelite cult believe that their "God," Jehovah Wanyonyi, is alive and has just paused in a serene place. They insist he will join them soon and offer spiritual guidance on life before the world's anticipated end.
"Our God is not like any ordinary human being who dies. He has been with us here and He will return. The fact that you non-believers do not see Him does not mean that He is dead. ."
In Bungoma County, a cult leader known as Nabii Yohana V commands a huge following and the locals would do anything to please him.
He claims to be John the Baptist reincarnated.
"I was born in Egypt and after five years I went to Israel where I lived for 230 years. Later, I returned to my creator. I prepared the way for Jesus. I was 203 when Jesus came. I consecrated him to begin his work before going to heaven," noted Nabii Yohana V.
The religious leader claims that God sent him on February 15, 1941, to complete the work of Jesus Christ and bring light to Africa.
To some this may seem untrustworthy, but his influence and power within the community is unmeasured.
Legion Maria
The Legio Maria religion is not new to controversies. In 2020 worshipers engaged in battles with law enforcement officers over a shrine. The skirmishes pitted two factions against each other that resulted in eight deaths, culminating in a trial.
The incident left most people wondering why humans should lose their lives fighting for sanctuary.
The religion is very much like Pentecostalism. It emphasizes the gifts of the Holy Spirit and incorporates practices such as glossolalia (speaking in tongues) and exorcism into its services while maintaining Catholic hierarchy and worship.
The group is often mistaken for being Catholic as it celebrates the main elements of the traditional Latin Mass. It has nuns and its own pope, Romanus Ong'ombe, who lives at the church's headquarters in Got Kwer, located in Migori County in southwestern Kenya.
"Legio Maria offers solutions to the problems we face every day," one of the devotees said in a previous interview. "The prophets can pray for you and you get a job, a husband, a wife and children, and even get cured of diseases."
Yet, some religious groups are seen as small but still powerful.
For example, Catholicism has remained among the most powerful religions in the country in the way they uphold their values ​​and hold to integrity.
Catholics have more often been seen as decision-makers, with their influence extending into the political arena. The Pentecostal church is also of this caliber.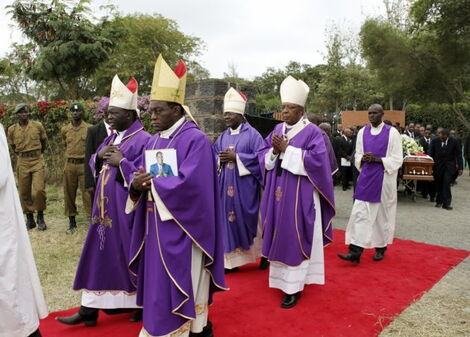 Members of the Kenya Conference of Catholic Bishops
To file
dead to fight