Marine punished for refusing vaccination warrant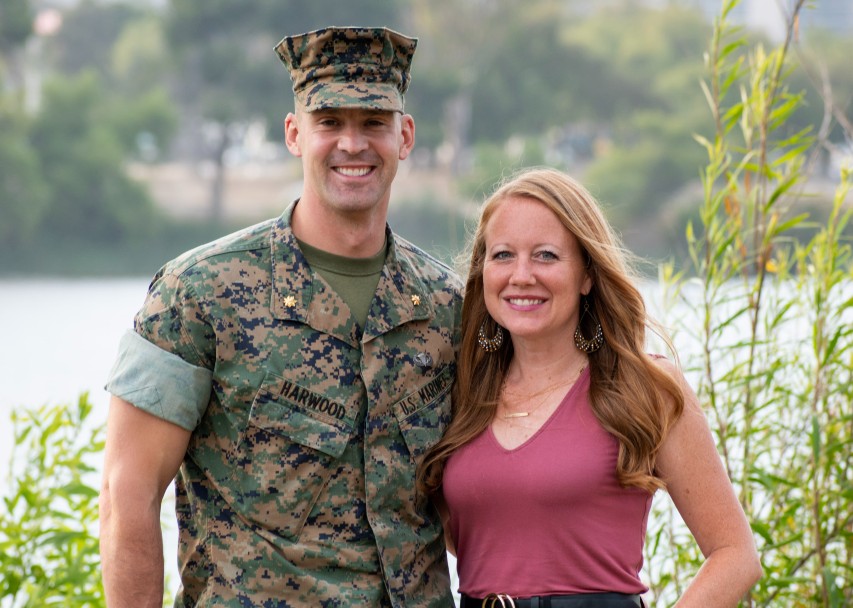 The wife of a Marine Corps major sanctioned for refusing to be vaccinated on religious grounds speaks out.
A Marine Corps major selected for promotion to lieutenant colonel recently went through a board of inquiry process and was found guilty of 'conduct unbecoming an officer' for standing by his beliefs nuns and refused to be vaccinated against COVID-19.
The Epoch Times spoke with Meghan Harwood, the wife of the officer in question, Major Nick Harwood. While her husband will soon be separated from the Corps after 15 years of honorable service, Ms Harwood said, her case represents a "great example of the farce that is the military legal system".
She said his religious beliefs and constitutional rights had been violated, explaining that "he doesn't enjoy the rights of every other American in this country." His request for religious accommodation was denied, along with his subsequent appeal.
Major Harwood was given 48 hours to shoot after his appeal was denied in December 2021. "They were trying to force him to violate his religious beliefs", but according to his wife, "he maintained his religious belief".
And as a result, he was removed from his post and assigned to another position.
More than six months after the refusal of religious accommodation, he met with his commission of inquiry on July 18. Ms Harwood described it as "an administrative court", a court lacking the strict legal procedures of a standard court.
"There is no judge," she says. "Instead, there are three high-ranking officers who vote to keep him or separate him. [from the Marine Corps]."
One of the government prosecutor's arguments, she said, is that when a person joins the military, it also limits their rights. He then linked this point to the limitation of freedom of expression, giving the example that "you cannot go to work and denounce your commander". He also tied it to the Second Amendment, noting that "you can't just bring a gun into some workplaces."
Both points, according to Ms Harwood, are "extremely stupid" examples of limiting someone's rights.
Limited testimony
Although Major Harwood's wife was able to testify before his Board of Inquiry, her speech was limited.
"While the prosecutor objected to my testifying for my husband, I was told that I could testify as long as I did not speak about our religious beliefs," she explained.
Ultimately, Major Harwood was charged with "conduct unbecoming an officer", along with multiple counts of disobeying an order or regulation, pursuant to Section 92 of the Uniform Code of Military Justice (UCMJ).
His wife views each charge as an infringement of his constitutional rights, as she said: "Section 90 specifically states that any order that violates constitutional or statutory rights shall be deemed unlawful, [explaining that] they ignored an important First Amendment right in the matter: freedom of religion.
Ms Harwood added that they are in breach of statutory law under the Religious Freedom Act 1993.
"The court martial manual says that the legality of an order is a question of law to be decided by a military judge, but with the board of inquiry, no one goes before a military judge," he said. she stated.
'Discrimination'
"In my husband's case," Mrs. Harwood said, "two of the three board members are commanders, [emphasizing that] they are actually some of the Marines in charge of ordering people to get shot. She wonders how her husband gets a fair trial from three Marines who get vaccinated, when two of the three give the order to get vaccinated.
They are also responsible for the negative endorsement of religious accommodations, she added.
"Whether [Major Harwood] was able to attend a court martial hearing before a military judge," she said, "he would have better luck. And according to Ms Harwood, "they know they would lose in a real court".
Two courts have issued preliminary injunctions barring the Navy and Air Force from punishing service members who have sought religious exemptions from the vaccination mandate.
Major Harwood also requested early retirement. His wife said his documents were "never passed" up the chain of command.
"We were told that they were going to keep him on his board, so if they were going to separate him, then they could offer him early retirement," she said, adding that "they never did."
7 religious exemptions
As of July 6, the Marine Corps has approved seven religious exemptions, 602 administrative or medical exemptions, and separated 3,069 people.
"Why do some enjoy their constitutional right [to freedom of religion] when my husband and thousands of others are not? asked Mrs. Harwood. "It's discrimination and it's not equal opportunity."
Others who have been granted an administrative or medical exemption are "falling through the cracks" in the name of military readiness, she said, adding that her husband "missed zero days" for a positive COVID test. "Meanwhile," she said, "others who were vaccinated missed many days."
"Weakening of the Army"
"It's not about a unit's health or military readiness," Ms Harwood continued. "It's about discrimination, [and] Christians are labeled with conduct unbecoming an officer.
According to Ms Harwood, "our army is single-handedly disbanded by leaders who have sworn to uphold and defend the Constitution against enemies, both foreign and domestic."
Rather than supporting and defending freedom of religion, she said, "senior leaders are choosing not to endorse religious accommodations."
Their decisions "weaken the military", she said.
She prays that "our leaders will have the courage to end this mandate before the damage to our military is irreparable."
She admitted that her family had "made so many sacrifices" for her husband's service. "It's not just a job; it's a lifestyle," she explained. "We understand Nick's calling, so we're making those sacrifices."
Today, she is saddened that "the army is not even willing to find common ground".
But when it's all said and done, she says, her family will continue to "trust in God, knowing that [Major Harwood] could be called [by God] do something outside of the military.
Ms. Harwood offered a favorite quote from former President Ronald Reagan to the American people:
"Freedom is a fragile thing and there is never more than one generation away from extinction. It is not ours by inheritance; it must be constantly fought and defended by each generation, because it comes only once to a people. And those who in the history of the world have known freedom and then lost it, have never known it again. »
The Epoch Times has contacted Marines Corp for comment.