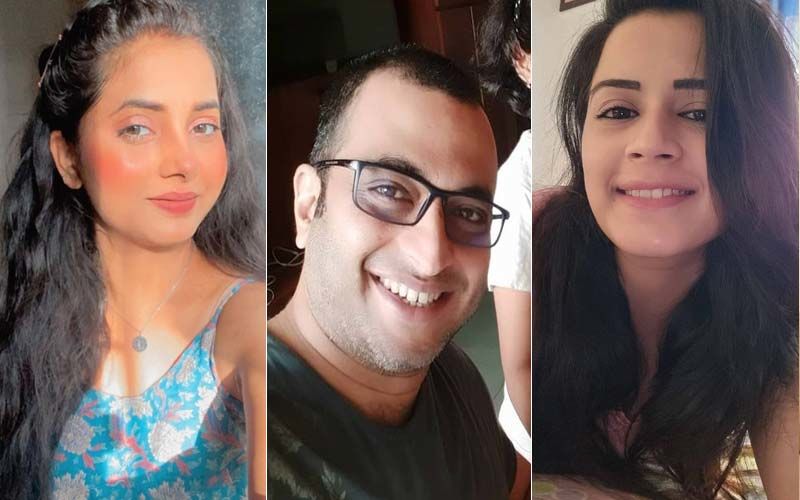 Marathi celebrities Sayali Sanjeev, Amol Kolhe, Prajakta Gaikwad and more show devotion to their favorite deity Pandurang on this special day
In India, Ekadashi is very important in the month of Ashadhi, and in Maharashtra Ashadi Ekadashi and Pai Wari from the Warkari sect have a long tradition. Marathi celebrities send greetings to their fans on special occasions via social media. So, check out who all have to wish for and how are they celebrating this special day.
The scintillating Marathi Cinema performer Sayali Sanjeev is quite active on social media and always expresses her feelings. She simply captioned her Instagram as – विठ्ठल (Vitthal Vitthal). "Vitthal is also a name of Lord Vishnu and in Maharashtra, devotees worship Lord Vishnu in the form of Vitthal. Popular Marathi actor Subodh Bhave responds also to Sayali Sanjeev's post and responds with just clasped hands emojis and expressed gratitude. Sayali updated a still where she can be seen praising the Lord with clasped hands. She is wearing a Narayani tilak which made devotion perfect .
Find out here:
Actor turned politician Dr. Amol Ramsing Kolhe is a very talented Indian film actor, currently he is also a Member of Parliament in the Lok Sabha of Shirur and a member of the Nationalist Congress Party. Dr Amol wished Internet users on Instagram Ashadi Ekadashi. He captioned the post with beautiful words praising Lord Vitthal, which reads – "भाळी चंदनाचा टीळा, गळ्यात घेतली वीणा, नित्य आम्हा लागला, पांडुरंगा तुझ्या नामाचा लळा (Sandalwood mound on forehead, Veena around neck, Pandurang we delivered to you forever "Dr Amol Kolhe can be seen in traditional attire with a turban and Veena in his hands. He is in a devotional mood. Fans reciprocate the actor and inundated their wishes in the comments section.
Find out here:
Searajya Rakshak actress Sambhaji Prajakta Gaikwad who won a million hearts with her unbeatable performance once again melts the hearts of millions of people today with her gesture of devotion to Lord Panduranga (Lord Vishnu Name). She updated a video on Instagram where she can be seen in a very casual outfit paying homage to Lord Pandurang's lotus feet. Fans seemed to be very overwhelmed by Prajakata's devotional mood and love for Lord Pandurang. They praise Prajakta with words of appreciation in the comments area.
Find out here:
The stunning Marathi actor Swwapnil Joshi also updated a very nice video on his Instagram account as Swwapnil Joshi can be seen as the presenter of the devotional song 'Vamangi'. The lyrics of the songs analyze Lord Vitthal on the occasion of Ashadi Ekadashi. The lyrics of the song are written by popular Marathi actress Samidha Guru and the music was composed by Siddhant Karwade. Joshi captioned the post – "सोहळा जमला आषाढी वारीचा, सण आला पंढरीचा, मेळा जमला भक्तगणांचा, दर्शनाचा 🙏🚩आषाढी एकादशीच्या शुभेच्छा! 🙏🚩 (Ashadhi Wari ceremony started, Pandhiri festival, devotees gathered , Happy Ashadhi Ekadashi) ". Fans look overwhelmed with Swwapnil's new project on Ashadhi Ekadashi's occasion and they return the favor to their favorite actor with the folded hand emojis.
Listen to the song here:
Due to the second wave of the crown, the Warakari have not been able to march since last year, 2020. He is also referred to as Devshayani Ekadashi and is observed on the tithi Ashadha Shukla Paksha Ekadashi. It is believed that on the day of Ashadhi Ekadashi, Lord Vishnu or Vitthal falls asleep and wakes up after four months on Prabodhini Ekadashi.
Image source: instagram / sayali_sanjeev_official / amolrkolhe / prajaktagaikwad_official / swwapnil_joshi