24 snakes including 16 cobras used for religious rituals saved from snake charmers in Agra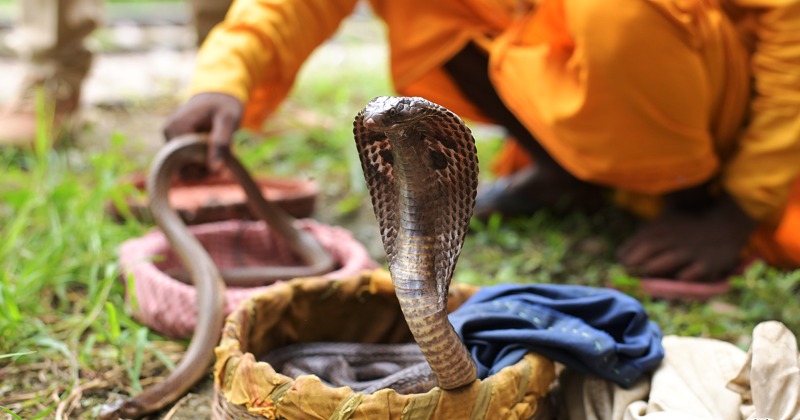 The month of Sawan or Shravana is in progress and this period has enormous significance in the Hindu religion as it is considered the most auspicious month to seek the blessings of Lord Shiva.
Of particular significance are Mondays that fall during this month, also known as Shravan Somvar.
But some people take advantage of this to earn money, exploiting the devotees.
As snakes are closely associated with Lord Shiva, snake charmers often entice devotees with displays of their snakes and promises of blessings.
As part of a joint operation by NGO Wildlife SOS and the Uttar Pradesh Forest Department on Monday, 24 snakes were seized from the illegal custody of snake charmers outside five different temples in Agra. .
Anti-poaching raid
Wildlife SOS and the UP Forestry Department carried out an anti-poaching raid, rescuing 24 snakes outside of Kailash, Balkeshwar, Mankameshwar, Rajeshwar and Rawli temples in Agra.
Snakes are protected wildlife and their capture or possession is an illegal offense under the Wildlife Protection Act, 1972.
A total of 16 cobras, 4 Indian rat snakes and 4 common sand boas were rescued from the snake charmers and transferred to the Wildlife SOS rescue center.
Poor condition of snakes
All of the snakes turned out to be in a heartbreaking state – hungry and dehydrated. There was nothing more disturbing than a harmless, non-poisonous rat snake with its mouth sewn up.
"These snakes are kept in the most appalling conditions and the horrific reality of snake charm must be exposed. Snakes are injured and maimed to the point that they often cannot return to their natural habitat," Kartick Satyanarayan, co- founder and CEO of Wildlife SOS, said.
Wildlife SOS vets immediately removed the stitches from the rat snake's mouth and hydrated all of the snakes first. Wildlife SOS continues to process and observe each reptile, determining if it is fit enough to be released into its natural habitat.
"One of the snakes had its mouth sewn up. So we kept it under observation. It is too early to tell if they can be released into the wild. But the usual process is to release them into the wild because there is no It is not possible to keep them confined in our facility, "Wildlife SOS spokesperson Arinita told Indiatimes.
"The rat snake with the stitched-up mouth exhibited aggressive behavior due to the pain. We carefully removed the stitches and no major bleeding or swelling has been seen since. No animal deserves such barbaric treatment," Dr Ilayaraja, deputy director of veterinary services for SOS Wildlife, said.
According to the NGO, the snake is used to attract worshipers who flock to the temples to receive blessings.
"In some people there is a practice of giving milk to the snake. This is not true and can even be dangerous for snakes because the milk reacts with their venom and can even kill them," Arinita said.
Wildlife SOS has stated that snakes are exploited in several ways by snake charmers who illegally capture them from the wild.
"For starters, capturing them in the wild is illegal in itself. Then they sometimes sew the mouths of non-venomers and remove the fangs and poison glands of snakes like cobras. Allowing people to put these snakes around their own. shoulder and taking pictures are also a form of abuse and even dangerous, "she said.